The Campaign For Completion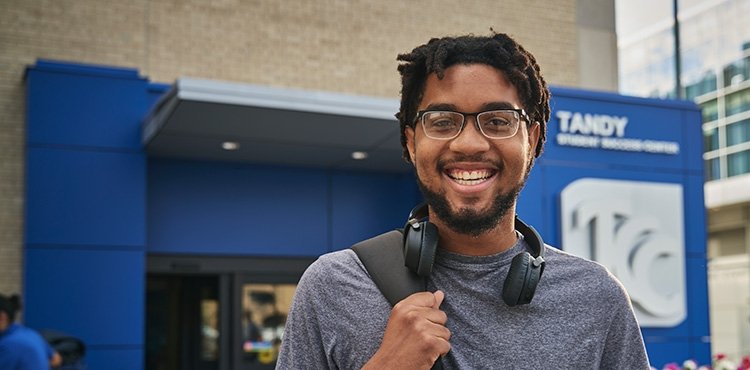 TCC's Campaign for Completion is not about raising funds…it is about removing barriers. Thank you for helping us fully fund our campaign and reach all five of our goals.
When our students are unable to overcome the barriers to completion, multiple opportunities are lost:
Students and their families lose the opportunity to advance their careers and economic status
The community loses the opportunity to benefit from a well-educated citizenry.
Prospective employers lose the opportunity to access a workforce prepared for jobs for the future.
Taxpayers lose the opportunity to accelerate our region's economic development.
TCC loses the opportunity to fulfill our mission and achieve our vision of an educated, employed, and thriving community.
When we remove those barriers, the opportunities multiply…for our students, our community, our companies, and our College.
From national studies, from our own institutional research, and from focus groups with TCC students, we know that the three most serious barriers to completion are:
Financial
Navigational
Physical
What will it take to remove these barriers? We have designed a concerted, systematic program to clear the pathway to completion, a program that depends on active engagement of faculty and staff across the college as well as philanthropic support from friends and benefactors across the region.
We are calling on individuals, foundations, and corporations to invest $20 million in our Campaign for Completion. We are confident that the investment will pay huge dividends through the multiplicity of opportunities it will unleash.
Campaign Sub-Goal: Remove Financial Barriers
The first element of our Campaign for Completion plan to remove barriers to completion is to address the financial challenges our students face.
$5 M Help remove the financial barriers by creating new endowed scholarship funds
We know from experience that money matters. In particular, we know that students' completion rates jump substantially when they can afford to attend TCC full-time. We also know that part-time students cite financial pressures as the principal reason they don't finish their programs of study.
So, we begin by keeping our tuition levels among the lowest in the state. For the majority of our students, that's not enough. Next, help nearly 90 percent of our students secure financial aid from existing sources, but that still leaves many students in financial need.
If we are going to remove the financial barriers for our students, we need to do more. More scholarships. More grants. More special funds for specific populations. We need to buy their books, and in extreme cases, help them keep the lights on and food in their pantries.
As part of the Campaign for Completion, our goal is to secure $5 million in endowed student scholarship funds. By carefully managing those funds, we will provide our students with additional financial support—each and every year in perpetuity.
Campaign Sub-Goal: Remove Navigational Barriers
Navigating the pathway from admission to graduation can be a daunting task, especially for the majority of TCC students who are the first in their families to attend college. They shouldn't have to "just figure it out," especially when we can help ease the way.
$7M Help remove the navigational barriers by increasing student access to advisors and online support services
More than 90 percent of our students have said the most important student service is academic advising. In 2015, TCC's student-to-advisor ratio was XXX, and the goal for removing the navigational barriers is to reduce the ratio to 300-to-1.
The second element of our Campaign for Completion plan is to provide our students with increased access to advisors who can help them chart their academic plan, link it to career goals, and balance it with life's demands. In addition, these advisors will provide just-in-time support when academic issues or other challenges arise on a student's pathway to completion. Advisors will also work closely with students who want to pursue a bachelor's degree to design a program of study that transfers seamlessly to four-year institutions.
Thus, we are targeting $7 million of the campaign goal to provide initial funding over five years:
22 Academic Advisors
10 Answer Center Advisors
The analysis indicates the added positions will become self-sustaining over time by increasing revenue through higher retention rates and reducing costs through higher productivity.
Campaign Sub-Goal: Remove Physical Barriers
Navigating the pathway to completion is not just a matter of finding the right courses; it is often a matter of finding the right offices. Our students are eager to succeed, but they need help traversing the maze of administrative processes, including admissions, financial aid, tuition payment, career counseling, academic advising, placement testing, academic preparedness programs, transfer policies and licensure requirements.
$5M Help remove the physical barriers by creating Student Success Centers on TCC campuses
We have dedicated staff who are eager to help, but most of our students don't know which staff to consult, where to find them, or how to arrange a meeting with them. To make matters worse, many of our students have little free time and are reliant on public transportation, so just getting to a meeting can be a challenge. It's little wonder, then, that many students simply don't get the services they need.
Therefore, the third element of our Campaign for Completion is to create Student Success Centers on each of our campuses. Answer Center advisors who are cross-trained to assist students with all of the college's processes and services will staff these "one-stop shops".
The Success Centers will also consolidate many of the student service offices, such as academic and career counseling, into a single location. The Centers will also house a student orientation laboratory with computer stations where students can access software that helps them design their academic plan and chart their academic future.
To help create and equip Success Centers on our campuses, we have included $5 million in the overall goal of the Campaign for Completion.
Campaign Sub-Goal: Learning Labs for Student Success
Chemistry and biology lab renovations will provide quality academic support labs in STEM fields so that students are better prepared to be the workforce of tomorrow.
$2.5M Renovate Metro Campus Biology and Chemistry Labs
All living things require the proper habitat to flourish — including biology students. You can bring to life the complete metamorphosis of the TCC Metro Campus Biology Laboratory, giving students the opportunity to thrive in a safe, evidence-based learning environment. The anatomy of the bright, modernized space will include white boards, microscopes, lab tables, cabinets, and counters — everything right down to the infrastructure to support total success. Imagine inspiring entire classes of curious students, year after year, with an organic interest in science and discovery.
The chemistry and biology lab renovations will allow students to perform experiments in a lab setting similar to what they will encounter in today's workforce. Updated facilities will provide opportunities to expand the variety of experiments allowed in the classroom and for undergraduate research. As the demand for STEM graduates grows, hands-on experience is critical to prepare and engage students on the path toward careers in this important sector.
Even chemistry labs need a periodic update. That's why we've created the formula for the ultimate Chemistry Laboratory Suite renovation at the TCC Metro Campus. This total transformation will support students and professors alike as they find everything they need to succeed — new lab benches, cabinets, lighting, state-of-the-art technology, critical air ventilation, and more. Neutrons may be free of charge, but this meaningful project requires an investment in the future of TCC and the lives of TCC students. You can be the catalyst that gives nursing, pre-med, and other ambitious students one of the finest learning environments available to help them follow their dreams.
Your investment will:
Replace outdated lab benches
Provide new chemistry lab cabinets
Update lab technology
Improve safety with a new air ventilation system
Campaign Sub-Goal: Diversity & Inclusion Outreach
The Equity Scorecard project will guide the College's implementation of institutional equity efforts designed to increase degree attainment and improve student success for racial/ethnic minorities, low-income students, first-generation students and adult learners.
$0.5M Help increase student success through the implementation of institutional equity efforts designed to increase degree attainment
The Scorecard Process
Engages faculty, staff and administrators in an action research process using data on equity status in four areas: access, retention, excellence and completion.
Facilitates a cycle of inquiry in five phases: laying the groundwork, defining the problem, assessing interventions, implementing solutions, and evaluation.
Shares with all of TCC via the Equity Scorecard Report, a visible symbol of TCC's commitment to equity. The ESR features equity goals, interim equity benchmarks, and an action plan to achieve those goals.
TCC's Summer Bridge Program
The Summer Bridge Program is a four-week experience that enhances leadership and college preparedness of recent high school graduates before they start college. The program offers accelerated learning opportunities designed to help first generation, low-income, and underrepresented students acquire the knowledge to better prepare them to succeed in college. The program also provides financial incentives to the participants who successfully complete the summer program.
Diverse Faculty Fellowship/Grow Your Own Program
Create a program whereby diverse graduate students and adjuncts rotate through opportunities to teach at TCC.
Student Success Completion Grants
Small grants are the best way to assist students who have financial obstacles to attain their degree. These grants help low-income and underserved students graduate, which ultimately boosts institutional completion rates.