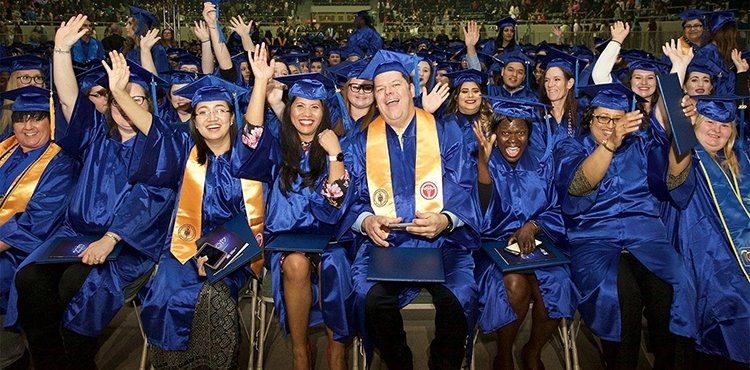 Tulsa's Future Begins with You.
Higher education is more important than ever to secure a career that will provide a sustaining wage for TCC students and their families. The TCC Foundation provides affordable access to quality higher education by supporting TCC students, faculty and staff. Your contribution to TCC's Annual Campaign provides project resources and scholarships that enhance TCC students' educational experiences.
Make dreams a reality for students like Justice.
Justice lived in her car briefly before applying to TCC. Now she is a 2020 Goldwater Scholar, designed to foster and encourage outstanding students to pursue research careers in the fields of the natural sciences, engineering, and mathematics.
Justice Robinson
TCC Graduate & 2020 Goldwater Scholar
Frequently Asked Questions
Annual Campaign gifts are unrestricted, which means your gift will contribute to College activities, scholarships and special projects of Tulsa Community College. Your donation will be used to support program areas that have the greatest need and are vital in achieving success in TCC's strategic plan. If you would like to know more about specific projects funded by the TCC Foundation, please feel free to contact the TCC Foundation at tccfoundation@tccfoundation.org or 918-595-7977.
We want to make it as convenient as possible for you to give to the TCC Annual Fund.
Mail: Mail your pledge and/or a check to the TCC Foundation
Telephone: Please call 918-595-7977
Matching Gifts: Many employers have matching gift programs that could double or triple your gift
These are just a few ways to give. Learn more about our Ways to Give.
An unrestricted gift is a gift that has no restriction on its use. The Tulsa Community College Foundation has the ability to apply unrestricted funds to an area of greatest need. Unrestricted funds allow the TCC Foundation to apply funds where students need them most, including taking advantage of unexpected opportunities and meeting unforeseen challenges. Restricted gifts are designated gifts to specific scholarships, academic programs or other special events and projects.
The TCC Foundation is a non-profit, IRS approved 501(c)(3) that provides financial support for educational needs of Tulsa Community College. State funding covers only a portion of expenses for vital programs and projects at TCC. The TCC Foundation coordinates fund development activities that support TCC in a variety of projects, including scholarships, faculty development, basic need assistance, and student experiences. The TCC Foundation staff works closely with private donors to ensure that funding improves the educational experience and degree completion of TCC Students.
Yes. If you would like to designate your gift for a specific project, purpose, or scholarship, please contact the TCC Foundation at tccfoundation@tccfoundation.org or 918-595-7977. One of our development officers will work with you to ensure that your funds are used per your request.
In order to make a tribute gift to a friend, colleague, mentor or family member, you can designate the gift on our online donation form. Click on the black box with white letters that say, "GIVE NOW". An online donation form has designation options. Please choose, "In Honor/In Memory". Once you have completed the form with your personal information and payment, there is a box at the bottom of the form that says "Leave a comment". Please write to whom you are making the tribute in this box with any other information we need to know regarding the tribute. If you prefer to send a donation in the mail, please include the details of your tribute gift in the envelope along with a check made out to the TCC Foundation. The honoree or family will be notified that you have donated in their honor.
Gifts of all amounts make a difference for Tulsa Community College students and employees. Gifts to the TCC Foundation are fully tax deductible. We offer recurring monthly giving, making it easy to complete your gift over the course of a year. For donations over $1,000, you become a member of the President's Society, which offers you special benefits as gratitude of your generosity. Learn more about the President's Society.
Yes. You can pledge a monthly, quarterly or annual contribution. You can establish your pledge on our online giving form or by contacting our office at 918-595-7977.
When you give a minimum of $1,000 annually to the TCC Foundation, you become a member of President's Society. As a President's Society member, you help support important College initiatives and critical needs of TCC students and employees. Your membership comes with benefits and runs from July-June of each year to coincide with the College's fiscal year. Learn more about the President's Society.
Yes, gifts to the TCC Foundation are tax deductible. We will send you a donation acknowledgment in the mail shortly after you make your donation.
TCC's fiscal year runs from July 1 through June 30.
Many employers will double and triple your charitable giving. Check with the human resources office at your company to see if it offers matching fund programs.
We use an SSL Certificate to protect your online donation and personal information. Wherever we collect sensitive information (such as credit card data), that information is encrypted and transmitted to us in a secure way. You can verify this by looking for a lock icon in the address bar and looking for "https" at the beginning of the address of the Web page.
Please contact us by phone or email. We would love the opportunity to talk with you about the growth and progress that is happening at TCC. Because of TCC donors like you, the College is helping students break down barriers, excel in their educational experience, complete their degrees and pursue their dreams.
918-595-7977
tccfoundation@tccfoundation.org
Give to TCC's Annual Campaign
Your gift to TCC's 2022 Annual Campaign will secure the necessary funds that will give students the opportunity to complete their degrees and experience a brighter future.